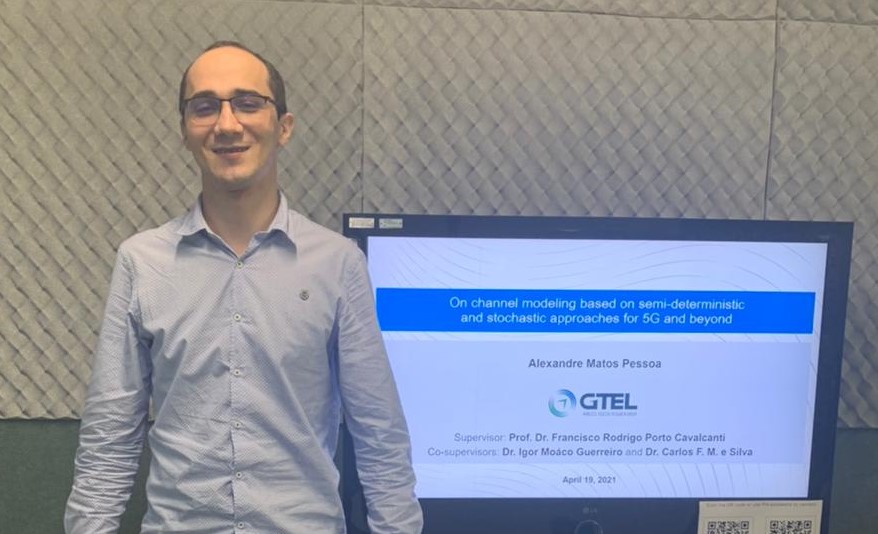 Alexandre Matos Pessoa recently defended his doctoral thesis entitled On Channel Modeling based on Semi-deterministic and Stochastic approaches for 5G and beyond. Alexander was mentored by Professor Dr. F. Rodrigo Cavalcanti (UFC professor and GTEL coordinator) and co-directed by Dr. Igor Guerreiro (principal researcher of the Ericsson-UFC wireless communications research program) and Dr. Carlos Silva (principal researcher at GTEL of the European projects H2020 FUTEBOL and 5G-RANGE).
The research developed in the thesis of the now Dr. Alexandre Pessoa had public and private funding, including the National Research Network (RNP) and Ericsson Telecommunications.
The bank that analyzed and unanimously approved the work was composed by the eminent researcher Dr. Andreas Molisch (University of Southern California), Dr. André Mendes Cavalcante (Ericsson), and the professors of the UFC and GTEL Tarcísio Maciel and André de Almeida.
Alexandre is already hired as a researcher by a large multinational telecommunications company and will work in Sweden soon. GTEL congratulates Alexandre and his advisors for their success.