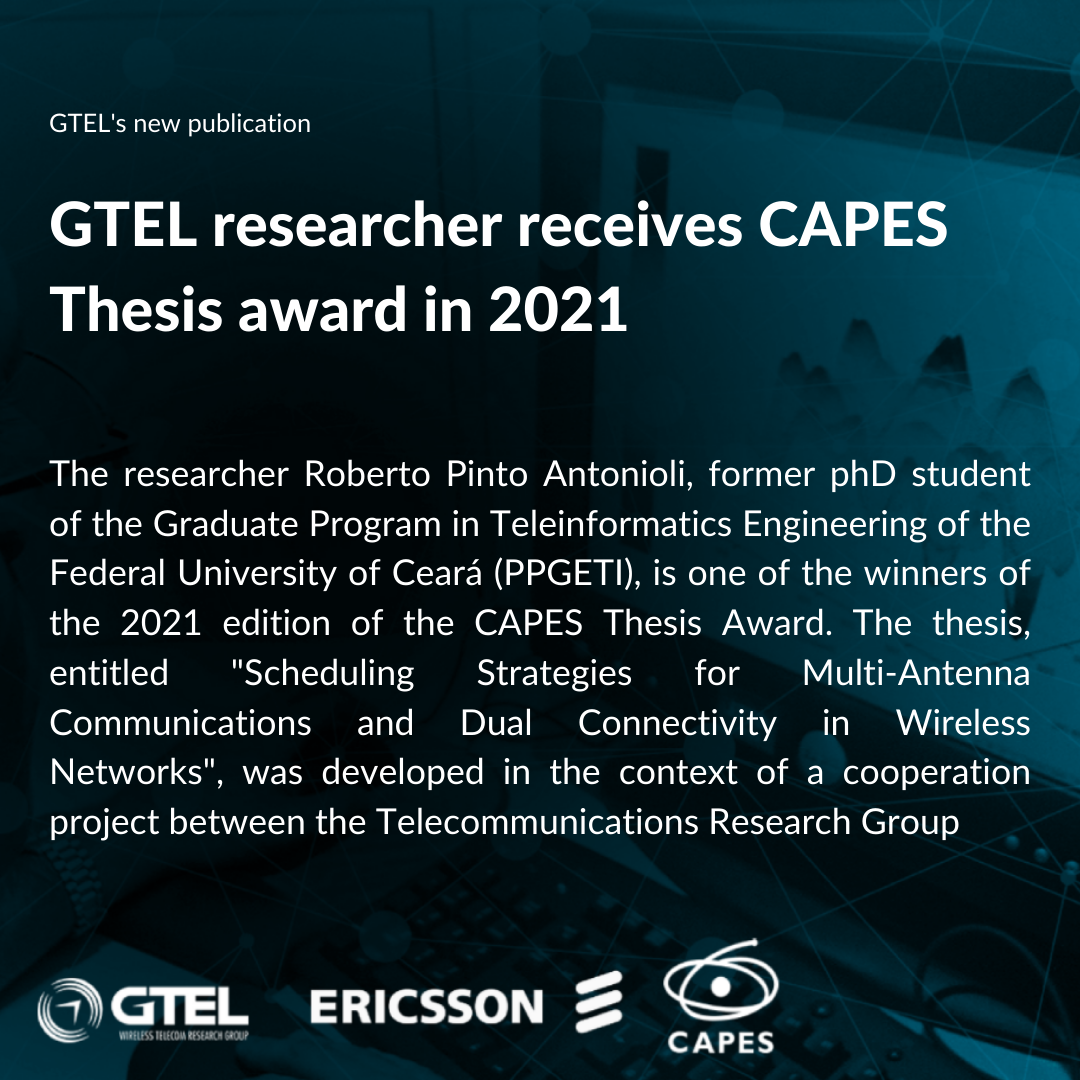 The thesis, entitled "Scheduling Strategies for Multi-Antenna Communications and Dual Connectivity in Wireless Networks", was developed in the context of a cooperation project between the Telecommunications Research Group
The researcher Roberto Pinto Antonioli, former phD student of the Graduate Program in Teleinformatics Engineering of the Federal University of Ceará (PPGETI), is one of the winners of the 2021 edition of the CAPES Thesis Award, in the area Of Engineering IV. The award-winning work develops and proposes strategies to make mobile network transmission systems more efficient, including the fifth generation (5G).
The official result was published on September 3 by the Coordination for the Improvement of Higher Education Personnel (CAPES) and published in the Official Gazette (DOU).
Defended in 2020, the thesis is entitled "Scheduling Strategies For Multi-Antenna Communications And Dual Connectivity In Wireless Networks". She was mentored by Prof. Tarcisio Ferreira Maciel of the UFC and co-directed by Prof. Gábor Fodor of the KTH Royal Institute of Technology in Stockholm, Sweden.
The work was developed in the context of the cooperation project between the Wireless Telecommunications Research Group (GTEL/UFC) and the telecommunications company Ericsson. During his doctorate, Roberto Antonioli served two sandwich periods at Ericsson Research in Sweden. From the studies carried out during the course, nine articles were published in journals and five patent applications were filed.
Currently, Antonioli continues to work at PPGETI, now in postdoctoral activities. He participates in research on transceivers and allocation of resources in user-centered networks, also within the scope of GTEL/Ericsson cooperation.